Home of a Rebel Sharpshooter
One of the most iconic photographs of the Civil War, this image purports to show the "Home of a Rebel Sharpshooter." It was published in Alexander Gardner's Photographic Sketchbook of the War (v. 1, pl. 41, 1865). Extensive field research by William A. Frassanito (1975) demonstrated that the photograph was actually made by Gardner's assistant, Timothy H. O'Sullivan. Frassanito's research, most stunningly, also indicated that O'Sullivan and Gardner staged this tableau by moving the Confederate soldier's corpse from where they first saw and photographed it to this "sharpshooter's home," some 72 yards away. Furthermore, it is likely that the rifle in the image, not of a style used by sharpshooters, is a prop supplied by the photographers. Read more here. Frassanito's conclusions were disputed by Richard Pougher (1988), following his study of the uniforms and other details of the photographs. Most experts, however, continue to support Frassanito's conclusions.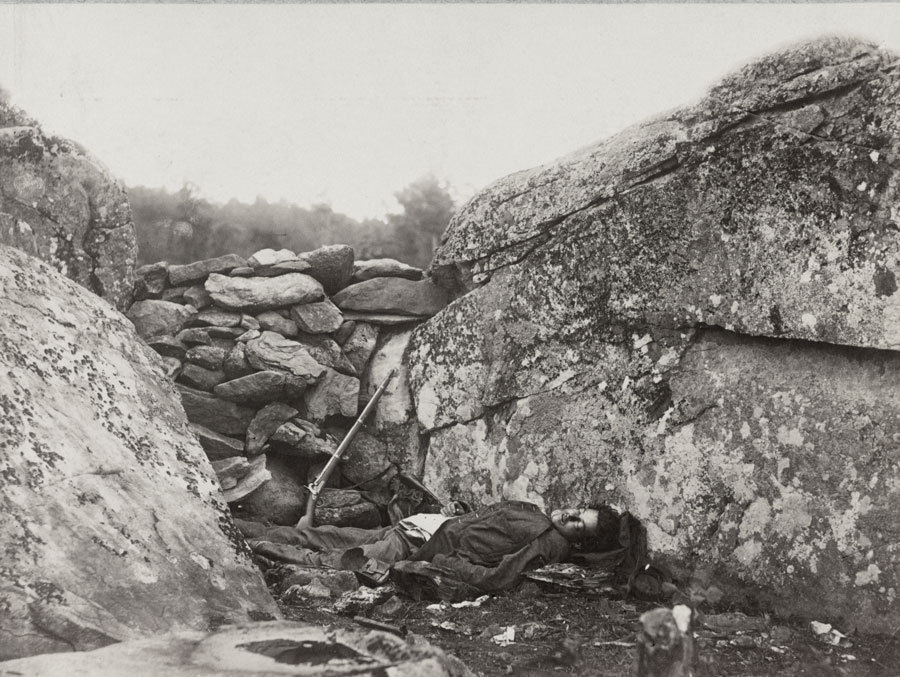 This image (above) is the best known variant. However, the photographers on July 6th or 7th of 1863 also created stereo and plate views at the spot where the body was found before it was transported to the "sharpshooter's home." The four stereo views are presented below (L-R) in the order in which they were photographed, according to Frassanito. The stereocards have been converted here to 3D anaglyphs and animations which may be viewed by clicking on each of the four images below. The anaglyphs and the animated images have been modified to optimize the stereoscopic effect. For then-and-now comparisons of these images, click here.