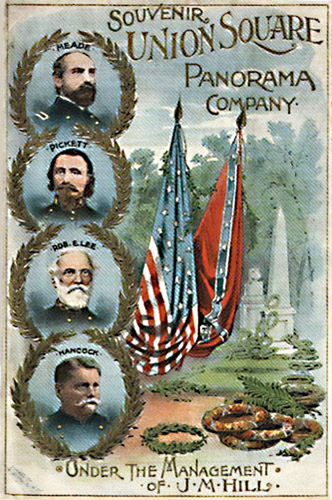 This website is designed to be experienced on a desktop or a laptop computer. While it will work adequately on a hand-held device, its high-resolution images and virtual-reality panoramas display most effectively when viewed on a larger screen. The VR elements are best experienced in full-screen mode. Every image on the site, except the one on this page, will reveal additional content when clicked; usually a larger version of the image with a more detailed caption. For some content, special accessories are recommended: anaglyphic glasses for the Battle of Gettysburg stereocard pages, and a head-mounted display for the HMD Cyclorama page.
Since first experimenting with virtual-reality imaging in the mid-1990s I've been aware of the Battle of Gettysburg Cyclorama's significance in the history of immersive media. However, my first visit to Gettysburg wasn't until November of 2019. Up close, the painting was an epiphany, and inspired the 18 months of development for this website.
If you would like to engage in a public dialogue about the Cyclorama, please consider visiting—and commenting on—the Facebook page. If you'd like to send a message to me personally, please use the form below.
Along the way I've had help from a number of people and institutions. Most significant has been the encouragement and advice from Sue Boardman and Chris Brenneman, the authors of The Gettysburg Cyclorama: The Turning Point of the Civil War on Canvas. Their publisher, Theodore P. Savas, Director, of Savas Beatie, has also been enthusiastic with his support. The authors have been the source of many of the facts, and some of the images used in this project, particularly the source images used to create the three-node VR project linking the Cyclorama to the landscape.
Others have given generously of their time to help edit the text and to answer research queries: Greg Ainsworth, John Banks, William Deutsch, Elana Goldbaum, Robin Goldbaum, Michael Green, Ron James, Eric Rennie, Luka Starmer (@Reality Lab at the University of Nevada, Reno), David VonSeggern, and Bob Zeller (The Center for Civil War Photography). Also: the Prints and Photographs Division of the Library of Congress, the Boston Public Library, the Boston Center for the Arts, The Adams County Historical Society, Civil War Talk, and the Gettysburg Foundation .
In addition to the Gettysburg Cyclorama book, text sources include:
Gettysburg: A Journey in Time (William A. Frassanito, 1975)
Early Photography at Gettysburg (William A. Frassanito, 1995)
More than Meets the Eye. The Magic of the Panorama (International Panorama Council, 2019)
These Honored Dead : How the Story of Gettysburg Shaped American Memory (Thomas A. Desjardin, 2004)
Other sources are linked in the text.
Images in the public domain were obtained from various online sources, many from the Library of Congress (LOC).
I am grateful to all who have assisted. Any factual errors or lack of clarity, as well as the interpretive points of view expressed, I will claim solely as my own.
Howard Goldbaum, June 2021